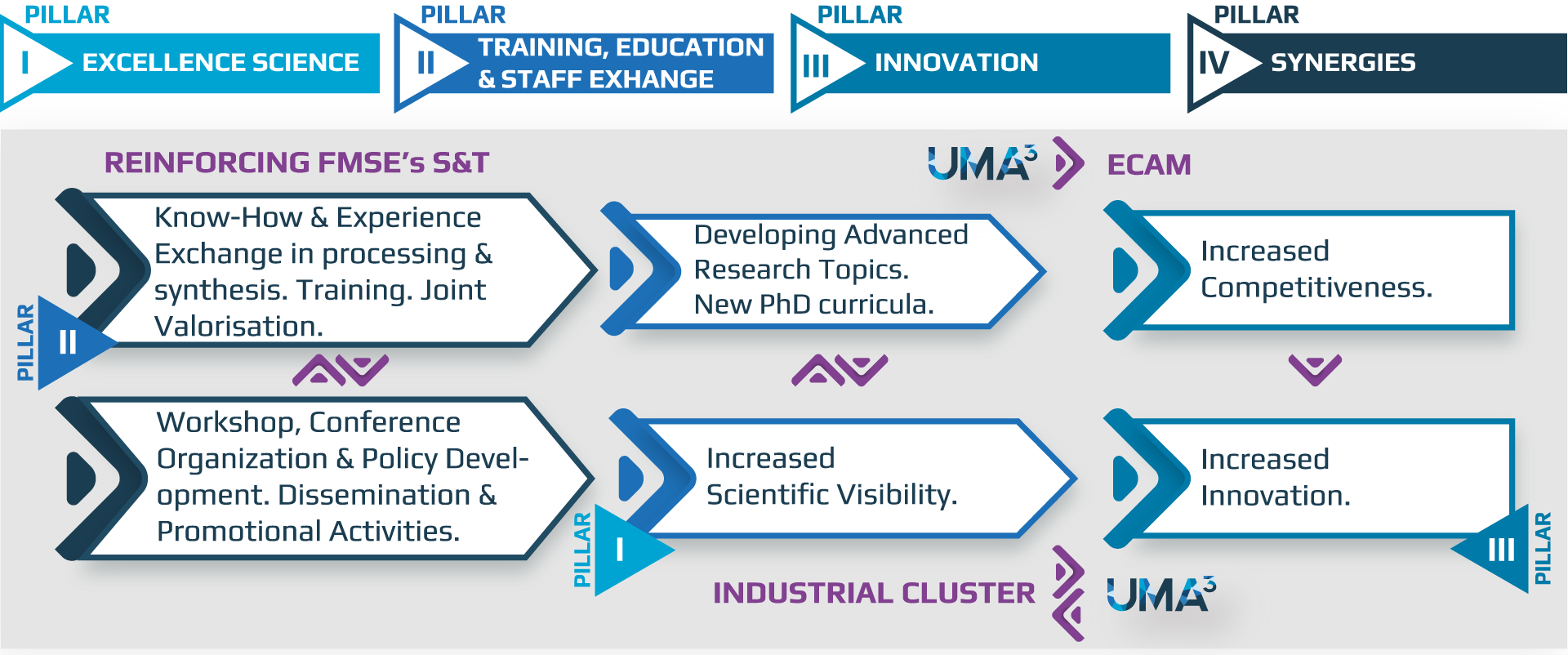 To boost the scientific excellence and innovation activities of UNIMI-FMSE, the consortium partners will implement a dedicated strategy based on 4 main pillars:
Analysis of the lightweight materials, metal matrix composites requirements for aerospace, aeronautical applications;
Innovative and sustainable materials and coatings solutions for the enhancement of the structures in the proposed field will be devised and provided;
Development of new research directions in UNIMI-FMSE by exchanging know-how and experience through twinning actions with research intensive partners. This will lead to the increase of the number of peer-reviewed international scientific co- publications with at least 100% rate at the end of the project.
Development and widening of our knowledge in the field of additive manufacturing and powder metallurgy assisted by ECAM.
Increase the scientific visibility of UNIMI-FMSE and the number of peer-reviewed international scientific co-publications in high impact factor journals of the speciality (e.g. journals in the Q1 and Q2 quartiles of the Web of Science platform).
The participating researchers will be devised to implement a personal publication plan, which can be continuously monitored via the Hungarian Scientific Bibliography.
Organization of at least 3 training activities and 2 summer schools with the partners from intensive research countries as partners in: additive manufacturing of advanced materials, coatings with designed properties; 3D structure analysis
Training by research on new sintering and forming methods for obtaining high quality advanced material parts;
Implementation of one common international PhD curricula in the field of advanced materials for aerospace and aeronautical through the cooperation with academic partners.
Promote the involvement of early stage researchers and excel their scientific career through dedicated training, networking and mentoring.
Organization of dedicated training modules that will enable an increment on the experience of the UNIMI-FMSE staff with regard to European proposals preparation, project management and administration.
Integration of new research facilities for applications of advanced materials systems for additive manufacturing, aeronautical and other industrial sectors;
Elaboration of at least 2 new certified methods to be proposed for standardization: 3D characterization of additive manufactured advanced materials by FIB-SEM (Focus Ion Beam Scanning Electron Microscope) and micro CT (microComputer Tomography) and Thermal Analysis of nanostructured coatings using Differential Scanning Calorimetry and Gravimetry (DSC-TG).
Collaboration agreements with business partners involved in the Industrial Board of the UMA3 project, leading to development of new materials and technologies on demand.
Proposing collaborative research projects in the frame of Horizon 20202 calls and National Projects in the frame of the National Smart Specialization Strategy in Hungary. This would lead to an increase of private funding in UNIMI-FMSE and strengthen the position of the Faculty.
An Industrial cluster and Excellence centre will be established to provide solutions (materials and/ methods) for the aerospace sector in the field of: Nano multilayers, additive manufacturing of nanostructured alloys and powder metallurgy.
Synergic cooperation activities, projects and networks will be proposed to sustain the continuation of a dynamic activity after the end of the project, by actively supporting related strategic objectives of EU Technological Initiatives and being involved in the continuous elaboration of new joint projects.
Joint participation in at least 1 International Conference and organization of a Policy Development Workshop, in the field of materials under extreme environments for additive manufacturing, aeronautical and other high-tech applications;
Organization of a foresight workshop to identify and prioritize research topics and technologies in the field of novel advanced materials with tailored properties, according to strategic scientific and industrial needs for enhancing the Hungarian and regional competitiveness in the aerospace industry and propose measures to improve accordingly the National and regional strategies for RDI.
Synergies between regions under the interlink of RIS3 strategies.
Dissemination, Promotional Activities and communications with potential end-users to maximize the transfer and promotion of project results of the UMA3 project in Hungary and across the EU.