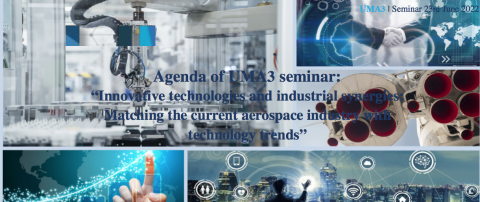 An UMA3 Seminar on "Innovative technologies and industrial synergies: Matching the current aerospace industry with technology trends" has been organized by UMA3 partner ICAMCYL and will take place (Online from Leon, Spain) on June 23rd 2022. Several very interesting presentations on the topic are planned to be given by distinguished representatives.
The detailed agenda as well as the Zoom link for accessing the UMA3 seminar, can be found here.
The UMA3 seminar will be followed by an UMA3 Consortium meeting in the frame of which the latest progress and main upcoming activities of the project will be discussed.