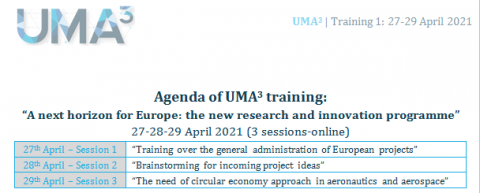 A 3-Days UMA3 training seminar will be held virtually from April 27th to 29th 2021: "A next horizon for Europe: the new research and innovation programme".
The first day (Session 1) will focus on training over the general administration of European projects; that will be particularly given to the staff of the research management/administration division of UniMi-FMSE, so that it can develop the high-level skills and competences considered vital in project management and administration at an international level.
During the second day, a Brainstorming session among the consortium members will take place, regarding incoming project ideas that would be relevant to the skills and interests of University of Miskolc.
The last day (Session 3) is dedicated to the topic: "The need of circular economy approach in aeronautics and aerospace", an emerging concept for the aviation industry. In this frame, relevant speeches will be held from members of the consortium as well as from invited guest speakers from the industry.