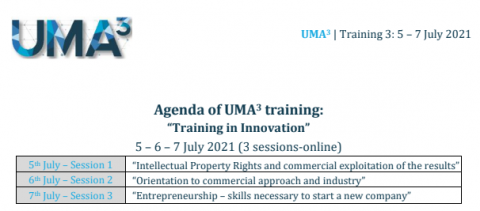 A 3-Days UMA3 training seminar on "Training in Innovation" will be held virtually from July 5th to 7th, 2021.
The first day (Session 1) focuses on "Intellectual Property Rights and commercial exploitation of the results". This workshop has been designed as a first introduction on the concepts, use and importance of intellectual property in the field of the aeronautics industry.
During Day 2 (July 6th 2021), a Session concerning "Orientation to commercial approach and industry" will take place. In this context, commercial sector specialists from the participating industry will teach students how to define innovation and recognize it as a critical enabler to find quicker and better solutions for industrial problems.
Last day's Session is dedicated to "Entrepreneurship and skills necessary to start a new company". In this frame, representatives of SMEs and specialists collaborating with the network are invited to talk about their specific company cases as well as share their expertise on the issue of exploiting innovation produced by academia for boosting academia entrepreneurship.
More information as well as the agenda of the event can be found here.
The seminars can be accessed through the following links:
Monday 5th: Click here to join the meeting, please.
Tuesday 6th: Click here to join the meeting, please.
Wednesday 7th: Click here to join the meeting, please.